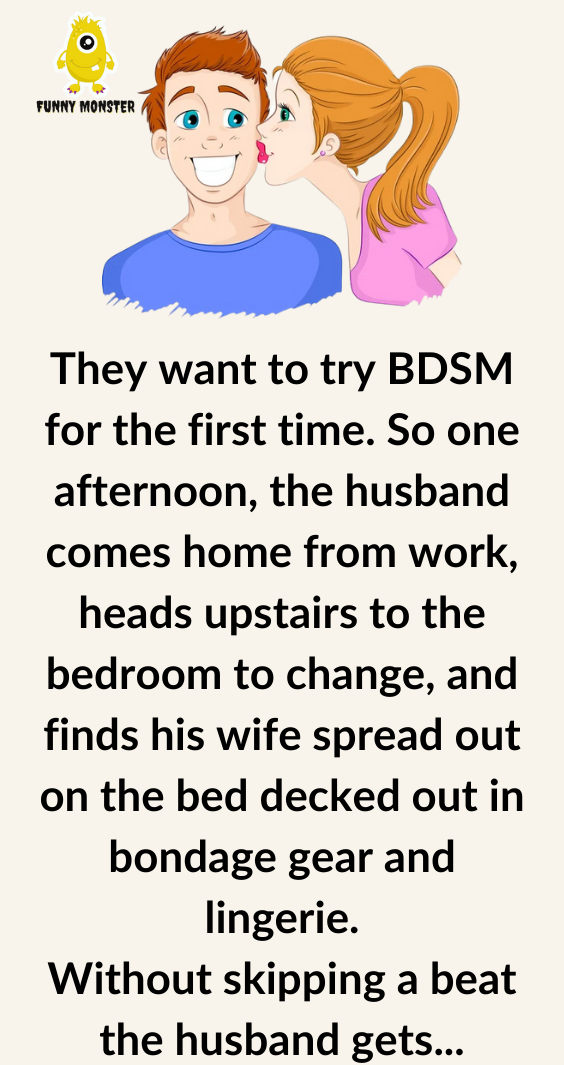 A Husband and Wife of Want To Spice Up Their Stale Sex Life
They wanted to explore BDSM for the first time. One afternoon, after the husband returned home from work, he went upstairs to change and discovered his wife sensually dressed in bondage gear and lingerie, lying provocatively on the bed.
Without hesitation, the husband undressed and leaned in close, whispering seductively in her ear, "What desires shall I fulfill for you, my queen?" The wife eagerly exclaimed, "I WANT YOU TO DOMINATE ME! YES! I CRAVE INTENSE SENSATIONS! YES! YES! PLEASE, PLEASE DOMINATE ME!!!"
The husband gazed at her and replied, "Of course. I'll be right back!" He swiftly exited the bedroom, disappearing into another room down the hall.
Several minutes passed, leaving the wife puzzled by his absence. She eventually left the bed, peeked out of the bedroom door, and inquired, "Honey, what… what are you up to?" Just then, she spotted her husband hurrying back from the other room, making his way to the bedroom.
He swiftly reached the bedroom, took her arms, kissed her passionately, and sensually positioned her on the bed. She caught her breath, smiled, and whispered in a sultry tone, "Took you long enough. You do realize I still want you to dominate me."
The husband responded, "Oh, absolutely. I just finished installing Windows 10 on your laptop."