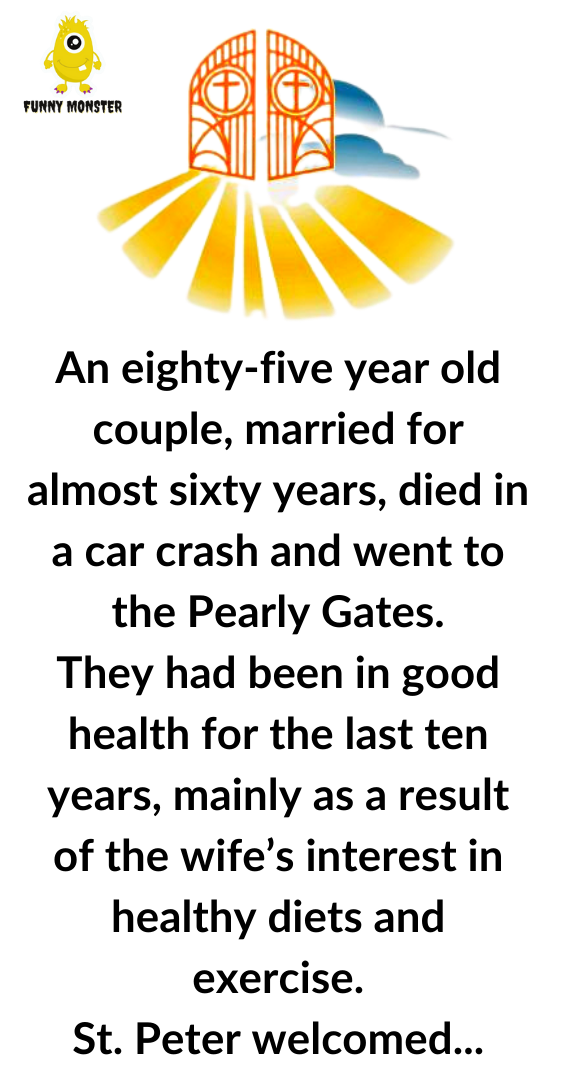 Happily Married Couples Together In Heaven
An elderly couple, both in their mid-eighties and married for nearly six decades, tragically perished in a car accident and found themselves at the gates of heaven.
Their last ten years had been marked by good health, primarily due to the wife's dedication to a nutritious diet and regular exercise.
St. Peter warmly welcomed them into the realms of Heaven and led them to their cozy heavenly abode, complete with a spacious bedroom, a luxurious Jacuzzi, a well-equipped kitchen, and even a billiards table.
Curious, the husband inquired, "What's the price for all this?"
St. Peter responded with a reassuring smile, "No cost at all, my friends. In Heaven, everything is freely given."
Next, the celestial guide escorted them to a championship golf course just minutes away from their celestial residence. They were granted unrestricted access to golfing, an angelic caddy at their beck and call, and the course transformed daily to mirror the world's most elite golf courses.
The wife marveled, "This is magnificent! How much are the green fees?"
Once again, St. Peter replied, "Absolutely nothing. In Heaven, every desire is effortlessly fulfilled."
Their journey continued with a visit to a restaurant beside the course that was akin to a five-star dining establishment. There, they feasted on the finest dishes, including Wagu beef, prime rib, lobster, veal, salmon, and an assortment of rare vegetables and spices, all available without limit.
The husband inquired, "And what's the price for this exceptional meal?"
With a reassuring tone, St. Peter told the wife, "I assure you, it's free. Here in Heaven, all is provided."
The husband paused, then hesitated, "Well, this is all splendid, but do you offer low-cholesterol and low-fat options?"
St. Peter chuckled gently, "In Heaven, you needn't worry about earthly concerns. You won't gain weight or suffer from illnesses."
Suddenly, the husband's demeanor shifted, and he yelled at the sky. Despite the attempts of St. Peter and his wife to calm him, his anger persisted.
The wife, bewildered, asked, "What's wrong? Why aren't you happy here?"
In a fit of frustration, the man replied, "It's all because of you! If it weren't for your darn 'bran muffins' and 'paleo chicken' recipes, we would have been here ten years ago!"